Several Crushing Methods of Plastic Crusher Machine
Views: 29 Author: Site Editor Publish Time: 2020-12-18 Origin: Site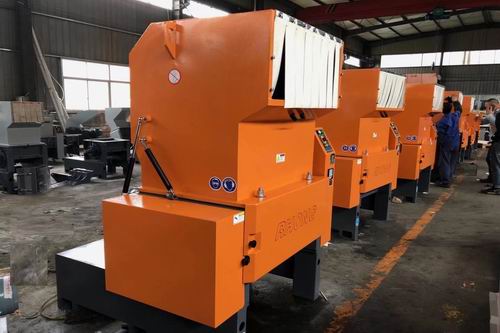 The RG-26E and RG-36E series of plastic crushers are designed based on the knowledge accumulated in plastic crushing for more than 40 years. The purpose is to maximize productivity at the lowest possible cost. This series is a powerful plastic crusher, which not only has the cutting technology of small crusher, but also has the characteristics of environmental protection, recycling and material saving. At the same time, the "open" design developed by RHONG makes it easy to operate , service and clean.
Plastic crushers play an important role in the production process of plastic products. We commonly call them Plastic Granulator or Plastic Grinder. They are plastic recycling crushing equipment. The main crushing methods of the equipment can be roughly divided into four types: cutting method, grinding method, pressing method and crushing method.
The fast "open" design of the RG series can quickly and directly operate the shredder rotor and cutter head compartment, which greatly simplifies the cleaning and service process.
Regardless of any kind of crushing method of the plastic crusher, the unification is to crush the plastic as the ultimate goal. Because the material of the plastic is different, we can only choose different crushing methods. Ningbo Beilun Rhong Machinery Manufacturing Co., Ltd. is specialized in manufacturing of different types of plastic crushing and recycling equipment, including plastic crushers, shredders, color mixers, hopper dryers, hopper loaders, industrial water chillers, mold temperature controllers, auxiliary equipment for injection molding machine such as honeycomb dehumidifiers, vacuum autoloaders, and central feeding systems.
With easy and fast cleaning and maintenance, low cost of ownership is achieved. The development of RHONG equipment is 100% focused on every detail vital to the plastic crushing recycling processor, simplifying all operations and minimizing the cost of ownership. When developing and manufacturing the shredder, we will ensure that the machine is tailor-made, and can directly provide a complete recycling system from RHONG.
In fact, no matter which type, it is based on the material characteristics of your company's plastic products to choose the corresponding crushing model. If you need it, you can send us email or call us +86 15258354994 , and look forward to your in-depth cooperation.